Yoga Camp October 2020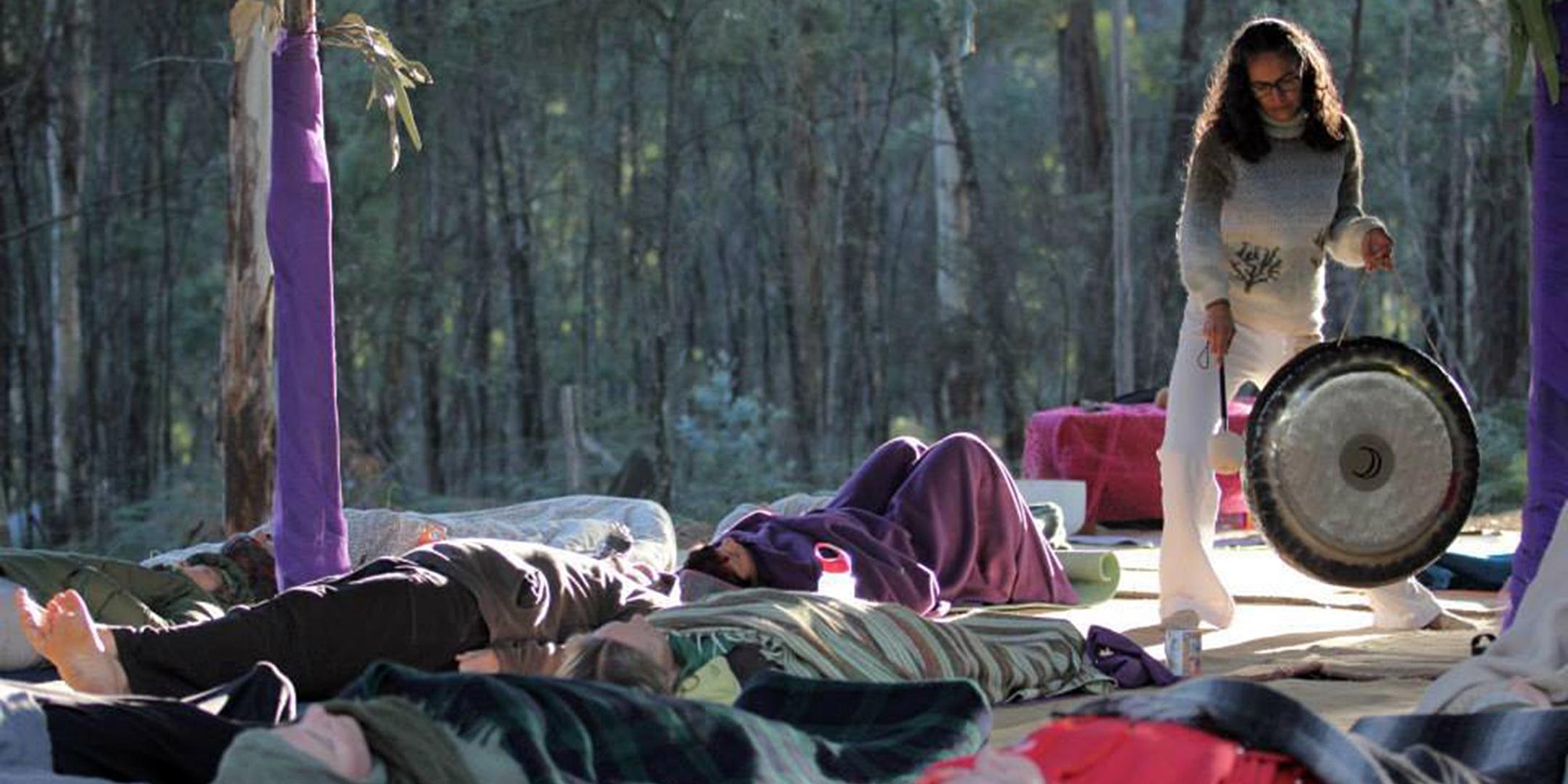 Experience an uplifting and nourishing weekend of yoga, workshops and camping in a beautiful bush setting.
Yoga Camp is a fun and affordable community minded and family friendly event, providing the opportunity for everyone to experience the benefits of a retreat. Connect with your spirituality and other like-minded people in a beautiful relaxed country setting. Suitable as an introduction to yoga, as well as an opportunity for more experienced practitioners to deepen and re-enforce their yoga Sadhana. We have another amazing line up of teachers and facilitators, delicious organic food, yoga and fun activities for kids and a nurturing open environment.
WORKSHOPS & YOGA
Yoga Camp prides itself on providing a broad range of yoga styles for all levels so everyone has the opportunity to enjoy yoga and other creative workshops. Here is an example of the Yoga Camp 2019 line up:
Hatha Yoga
Yin Yoga
Partner Yoga
Vinyasa Flow
Yoga Nidra
Ecstatic dance
Meditation and Pranayama
Acro Yoga
Nada (Sound yoga) and kirtan
Indian Martial Arts
Kalari Healing
Yoga Philosophy
With more to be announced…
The lineup of teachers and workshops is being finalized, and will be published here soon. For a sense of what to expect, check out this page from a Yoga Camp 2019:
https://www.yogacamp.com.au/workshops/
VENUE:
North East Victoria : High Country (approx 2 hours 45mins from Melbourne.)
Shambhola is a picturesque natural bush setting totally off the grid. Situated on 7.7acres and surrounded by State Forest, this stunning setting for Yoga Camp offers a sanctuary away from the everyday distractions of life.
Here we will have the opportunity to breathe in the fresh mountain air and realign ourselves with the rhythms of nature, remembering the effortless essence of life.
TICKETS:
$250 Adult – full price
$190 Adult – discounted (discount price is for any adult who would like to come but the full price is a little out of their budget- concession card not necessary)
$75 14-17 yrs
$60 10-13 yrs
$45 3-9 yrs
Under 3 free
In the past Yoga Camp events have sold out in a short period of time, to avoid disappointment we recommend booking ASAP. Refunds are available up until 2 weeks before the event date, with a 10% administration fee witheld: the refund will be processed by Yoga Camp Pty Ltd (not via Eventbrite), so you will need to email info@yogacamp.com.au to request your refund.
WHAT'S INCLUDED IN TICKET PRICE?
A whole weekend of Yoga, Meditation, Workshops, Dance and Music!
6 wholesome vegetarian meals! Catered for with love by the amazing Sun Hyland
Chai and Snacks
Kid's Space: kids yoga, animal farm feeding, story telling and other creative workshops
Camping in beautiful bush surrounds
Fresh mountain spring water for drinking
Dam for swimming and canoeing
Open mic night
Kirtan (sacred yoga music)
Havan (traditional fire ceremony)
Time shared with like-minded people in a nourishing and uplifting environment.
SEVA (KARMA YOGA):
To keep the costs down and to develop a mood of community we ask that everyone be a part of holding space for each other by contributing to the overall running of yoga camp through seva (selfless service) during the weekend. This involves helping out for a couple of hours during the camp through kitchen prep, washing dishes, assisting with meal serving, etc.
VOLUNTEERS:
Yoga Camp welcomes volunteers. You will need to apply and be approved in order to purchase a discounted Volunteer ticket for $40. Please contact Tina for details via email akers1234@tpg.com.au
REGULATIONS:
You are required to follow all reasonable directions of Yoga Camp staff.
Still cameras (not professional unless by prior arrangements) are permitted but images may only be used for private purposes and not public display.
If you do not consent to be included in pictures and or recordings it is your responsibility to pass these details on to the retreat organizers.
Community standards of behaviour are expected and persons deemed to be behaving in a manner that is dangerous or unacceptable to the organisers will be asked to leave the venue.
Footwear is recommended to be worn at all times outside the workshop and communal areas.
When setting up camp it is your responsibility to evaluate the safety level of any over hanging trees or branches.
The property is a private property that is a working farm within a bush setting. The land may contain all manner of obstacles, risks and dangers, both known and unknown, natural and man-made which may result in loss or damage to your property and/or personal injury. Knowing this to be the case, if you choose to come onto this property you do so at your own risk, waiving and foregoing any rights to make any claims for losses and/or injuries.
Tickets are sold on the condition that the holder is bound by the regulations issued by the retreat organizers, written above on this page.
Please get in touch if you have any further questions. Contact Mark Blyss:
0413131580
info@yogacamp.com.au
We look forward to sharing Yoga Camp with you and your family!
Om Shanti from the Yoga Camp crew.