Teaphoria's World's First Ever Chai Ceremony
An Indian tea ceremony is something never performed before.
Come in with a curious and calm mind, bring your yoga mats you shall need them, and come in your yoga gears. First session will be an introduction to the chai and elements. You will then taste many Indian teas and will write flavour profiles on your cards. You will then be served some nibbles to clear your palate. The session will transition to a chai brewing that will require 30 mins of your complete attention and patience. The chai will lead to an alchemy of turning pink midway and you shall see the magic.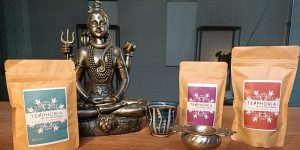 You will receive a parting goodie bag with Teaphoria chai pack and recipe card