TASA – Ugadi Celebrations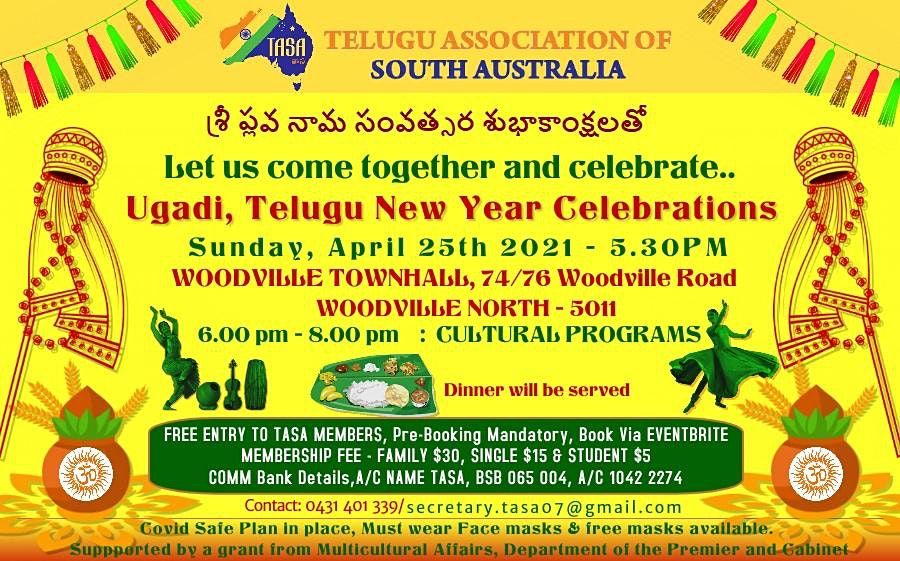 TASA invites all South Australians to celebrate this festival of happiness together. There will be dance, music& Entertainment for everyone.
All are welcome to the Alcohol-Free event. Pre-booking is mandatory. Kindly book online via EVENTBRITE. FREE ENTRY to TASA Members, Membership Fee – Family $30, Single $15, Students $5. COMM Bank Details, AC Name TASA, BSB# 065 004, AC# 1042 2274, REF/DESC # Surname/Mobile Number. Booking can be made under one name with list of all the other attendees associated under it, to allow you to sit and enjoy the program together. Please use your surname as group name, if there is one already – add extention number to it. Ex: TASA1
The festival marks the beginning of a new Hindu calendar year and is celebrated on the first day of "Chaitra" month, which falls in the months of March-April as per the Gregorian calendar. The festivities of Ugadi coincide with "Chaitra Navratri" celebrated in north Indian states and "Gudi Padwa" celebrated in the central state of Maharashtra. The festival is called "Ugadi" in Andhra Pradesh and Telangana, while in Karnataka it is called "Yugadi".
Number of Multicultural items – Live music, dances, etc performed by artists from all age groups. Traditional Dinner will be served after the event.
Kindly arrive by 5.30PM to be seated comfortable, as there is no reserved seating. Children must be seated and supervised by a parent or guardian at all times whilst attending this event. Must wear Face Masks & Free Masks are avaialble for your comfort at the venue. TASA or its volunteers, Venue staff are not responsible for supervising children at this event.
We wish to conduct the event in compliance with the rules and regulations stipulated by SA Health for Public gatherings and we expect every visitor to help us in maintaining those standards. For more details, please visit the SA Health website https://www.covid-19.sa.gov.au/ for recent updates.
Supported by a grant from Multicultural SA, Department of the Premier and Cabinet.