Sur Mehfil – An evening of authentic Indian music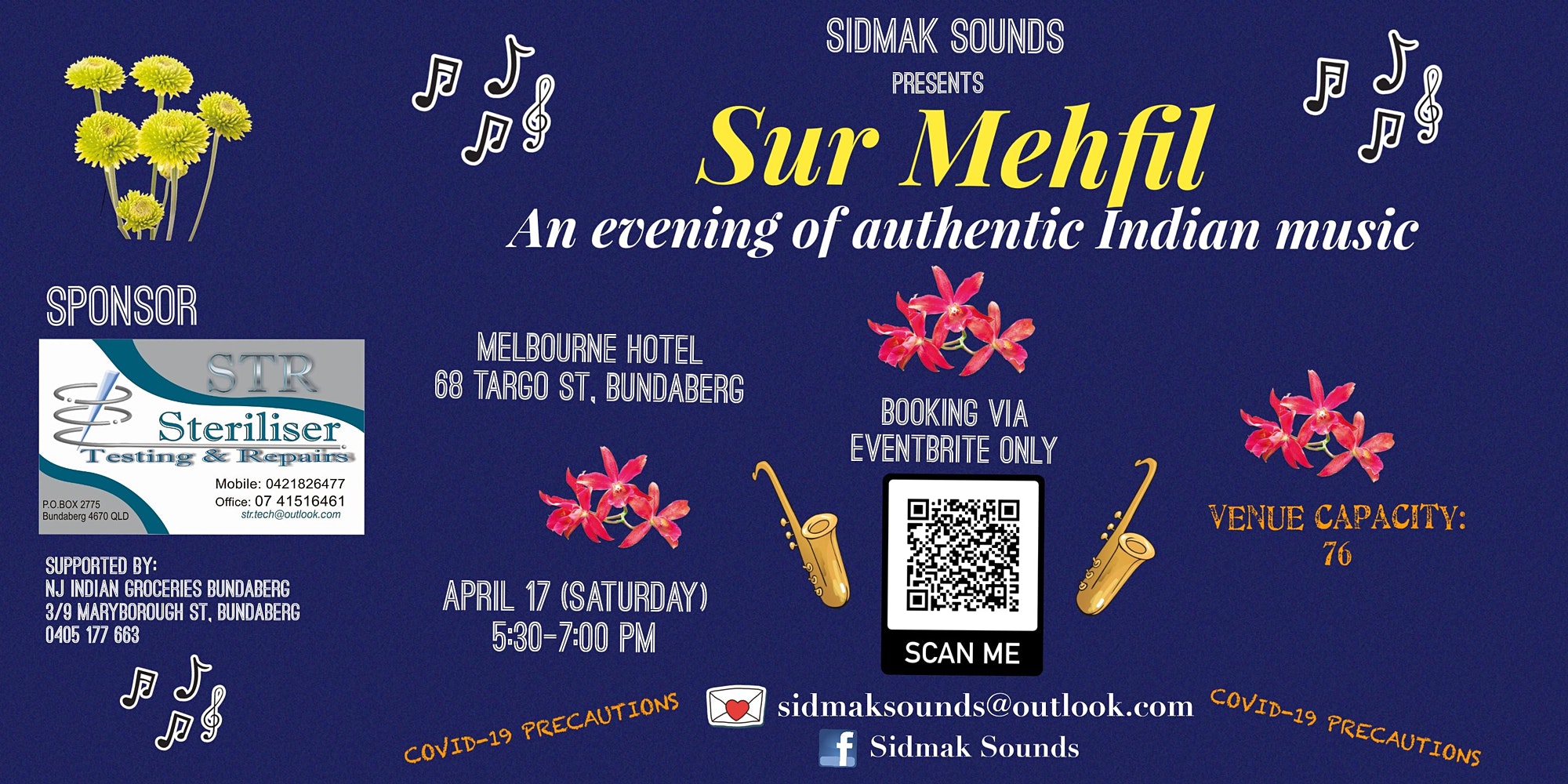 Evergreen Indian songs and ghazals, instrumental pieces and more….
After an exciting start to 2021 with our first concert of the year, 'Saaz-E-Ishq – The Music of Love' in February (Gladstone), we now bring to the city of Bundaberg the magic of authentic Indian music with 'Sur Mehfil'.
Evergreen old and new songs and ghazals will be the main features of this courtly music event. In addition, there will be some heartfelt instrumental pieces.
Join us on a musical voyage of soulful as well as soul-stirring numbers to be held in the beautiful ambiance of Melbourne Hotel in Bundaberg's CBD!! Join us for a great evening and support local talents and cultural exchange through the language of music.
Tickets are available for only 65 guests (others are performers and volunteers), due to the room's reduced capacity related to covid regulations.
There will be no on-site ticket sale. Booking is entirely online. If you prefer to pay via EFT, kindly email your request to sidmaksounds@outlook.com.
We would like to thank 'Steriliser Testing and Repairs' for sponsoring our venue. We also thank NJ Indian Groceries Bundaberg and Alowishus Delicious Bundaberg for supporting our event.
Events organized by Sidmak Sounds in the recent past include:
Feb 13: "Saaz-e-Ishq – The Music of Love" (Rydges, Gladstone)
Nov 7: "The 11 Legends – An evening of Hindi and English Classics" (Rockhampton Leagues Club, Rockhampton)
Aug 16: "Old is Gold" (Walter Reid Cultural Centre, Rockhampton)
——————
Covid-19 precautions:
It is everyone's responsibility to strictly observe the covid-19 regulations. Please keep yourself up-to-date with Queensland government covid-19 regulations which are regularly updated at:
https://www.qld.gov.au/health/conditions/health-alerts/coronavirus-covid-19/current-status/public-health-directions and https://www.qld.gov.au/health/conditions/health-alerts/coronavirus-covid-19/current-status/public-health-directions/business-activity
Queensland Government Roadmap to Easing Restrictions can be found at: https://www.covid19.qld.gov.au/__data/assets/pdf_file/0016/127150/DPC7309-COVID-19-Restrictions-roadmap.pdf?nocache-v7
Please send an email to sidmaksounds@outlook.com with your full name, phone number and email address (residential address if unavailable) upon the purchase of the ticket(s).
People should not attend this event if they have covid-19 symptoms, have been in close contact with someone with covid-19 or travelled overseas or covid-19 hotspots in the last 14 days. If you are unable to attend the concert because of these reasons, please request us via our email for a refund. Please observe social distancing regulations at all times.
It is of utmost importance to observe all covid-19 regulations strictly.
———————
Any further specific instructions about the event or the venue will be emailed to those who have purchased the tickets. We look forward to seeing you at "Sur Mehfil" for a true musical experience.