Sunday Lunch for India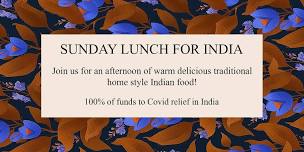 An invitation to a home made Indian feast reminiscent of Sunday lunches in India.
Vegetarian 3 course lunch from the diverse regions of India.
Nourish the body and soul while gathering together for a great purpose.
Brought to you by a small group of keen and kindred Indian home cooks!
All volunteer team of chefs & staff + donated ingredients + space & support offered by Kinfolk = 100% of proceeds go to Covid relief in India.