Raas Rang 2022 with Alpa Patel & Sagardan Gadhavi – Melbourne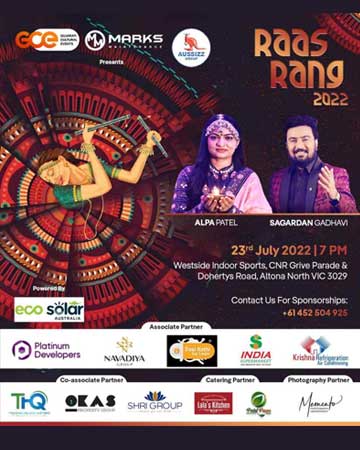 About GCE
GUJARATI CULTURAL EVENTS is an Event Management Company that organises Bollywood Events and Dandiya Nights. GCE, Specifically focus on the millennial generation to give them the opportunity of being part of an immersive experience.
About Artist: Alpa Patel
Alpa Patel is a very talented and famous folk Gujarati folk singer. She is among the most popular young folk singer involved in Lokdaira, Garba, and Gujarati singles. She started her singing career at the age of 10 years. At that time she used to perform in various stage programs along with other singers.
About Artist: Sagardan Gadhavi
Sagardan Gadhavi is a Gujrati artist sang great songs in his career and coming to Australia First time to Entertain you. Don't miss the chance to be part of this event. Looking forward to everyone's support.