Purandaradasa Aradhane 2021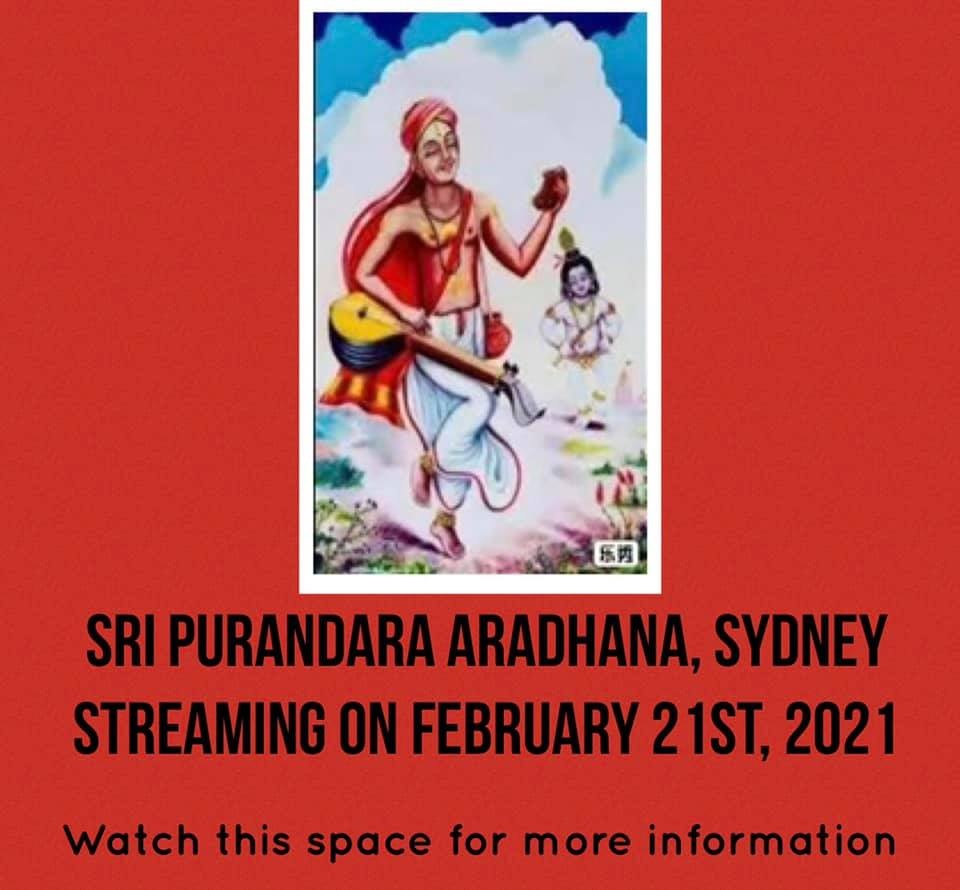 Sri Purandara Dasa Aradhane – 2021
STREAMING Schedule : Sunday 21st Feb 2021
At last, the much awaited the 21st Annual Purandara Dasa Aradhane Day is close at hand and will be celebrated this Sunday 21st February 2021.
This annual event has been particularly impressive by the huge participation of the community in all the 3 segments, produced and recorded with utmost care following all the health guidelines.
In view of the COVID19 situation, this year event will be streamed on Face book / YouTube as per schedule as below:
Date: Sunday 21/2/2021
Program Start – 9 AM to 1 PM
Program Sequence
"Navarathna Maalika" Segment 
'PurandarOpanishat' Senior Segment
Junior Segment
Streaming Access:
1)  Youtube Channel – Please subscribe to our YouTube channel below
https://www.youtube.com/channel/UCy4xDOirYyGQaa1TSwn98Qw
2)  Face Book Page :
https://www.facebook.com/PurandaraAradhanaSydney
3)  Purandara Sydney Website : http://www.purandarasydney.org/
 With great pleasure, we invite you with family and friends to this Streaming of the entire program.
 We are extremely hopeful that you will enjoy the rendition of all the Kritis in the comfort of your beautiful homes and send us your feedback on our website as above or Via Email purandarasydney1@gmail.com