Play – TWO PARTIES ONE STOR(E)Y
TWO PARTIES ONE STOR(E)Y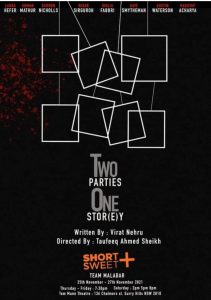 Roshni & Vikram on one side, Mary and Peter on the other, are about to be introduced to their future daughters-in-law. Despite the perceived cultural polarity, sacrificing ambition for family still remains the onus of the women & commonly overlooked but Grace & Helen are not ready to play ball!
Written by VIRAT NEHRU
Directed by TAUFIQ AHMED SHEIKH
Graphics by KAMAL KHAJURIA
Nov 25th, 26th and 27th – 5 shows only !
Choose group MALABAR for booking via link below
https://www.stagecenta.com/BkShowBooking.aspx?showid=6166