Mystique Moksha International Yoga Day 2022 Celebrations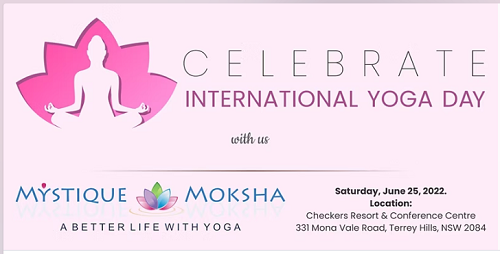 Like every year, Mystique Moksha is celebrating International Day of Yoga on Saturday, June 25, 2022.
Since 2015, International Day of Yoga is observed on 21st June to spread awareness among the masses about the importance of Yoga and its effects upon human health. Mystique Moksha Yoga Studio celebrates the event with Yoga Community.
8.30am -9.00am Introduction
9.00am -10.30am Yoga and Pranayama (focused on morning yoga practices)
10.30am – 11.00am Morning tea
11.00am – 12.30pm Yin Restorative
12.30am – 1.30am Lunch
1.30pm – 4.00pm Workshop: Wellbeing (Winter Yoga practices)
4.00pm -4.30pm Afternoon tea
4.30pm – 5.30pm Meditation and Q & A and special announcement.
Reach out for further queries – 0401376141 or help@mystiquemoksha.com.au