Maestro Ilaiyaraaja – Live In Concert Melbourne 2022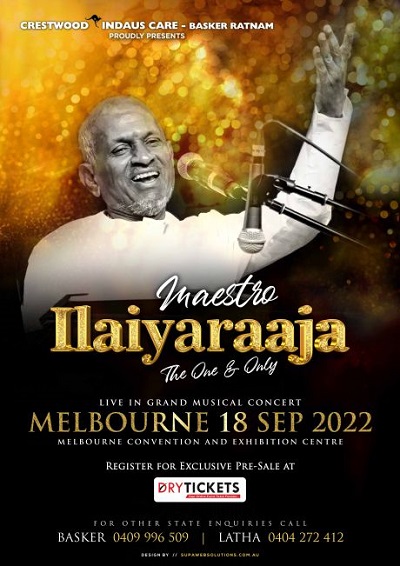 Considered amongst the world's best composers, Dr Ilaiyaraaja needs no introduction. He is a living legend. A recipient of several awards & accolades, including national honours – Ilaiyaraaja is credited with popularising the combination of western musical sensibilities with traditional Indian instruments and bringing that sound to the mainstream.
And well, here's a chance, as after a long time – the 'Isaignani' is back on stage to entertain and leave his audience spellbound once more – for a concert that you simply cannot miss. So get your tickets, take your seats and enjoy the show!
Grab your tickets on www.drytickets.com.au/event/maestro-ilaiyaraaja-live-in-concert-melbourne/