Live jazz music – Ahimsa Meditations on Gandhi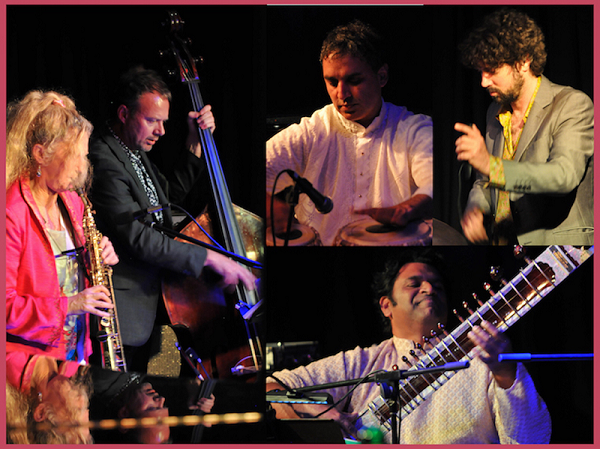 As part of the Live at the Village Music Festival in Springwood, this live music performances infuses fuses jazz, Hindustani and Carnatic music with contemporary electronic sounds. Each of the movements is a musical response to a fundamental idea from Gandhi's writings on Ahimsa (non-violence), translated into Sanskrit by Chris Whiteman and Vasudevacharya, and sung by the charismatic Sarangan Sriranganathan. It is created and directed by renowned Australian composer and saxophonist Dr Sandy Evans OAM.
About the performers
Sandy Evans, a lecturer in Music at UNSW, has performed in Australia, India and Europe. Sandy's collaboration with Shubha Mudgal, Aneesh Pradhan and Sirens Big Band, Bridge of Dreams, was a hit of the 2019 Sydney Festival. Sandy Evans is also performing with The Mara Big Band at the Live at the Village Music Festival where they will perform their newly commissioned work Zashto, which tells the story of migration through the eyes of three women over a 200 year period.
Sarangan Sriranganathan (sitar/vocals) is an extraordinary artist whose performances have earned global accolades at some of the world's most famous venues and music festivals.
ARIA Award winner Bobby Singh (tabla) was born in England and spent much of his youth in India studying tabla. He is well known for his work with artists like Circle of Rhythm, Rasa Duende, Jeff Lang, Slava Grigoriyan, DHA and the electronic/fusion group "The Bird"
Alon Ilsar (airsticks and drums) is a drummer, composer, sound designer and instrument designer. He is co-designer of a new interface for electronic percussionists called the AirSticks. He has been heavily involved in theatre and film. Alon has a PhD from the University of Technology and recently completed a one-year artist residency at Brooklyn College's PIMA in New York. www.alonilsar.com
Brett Hirst (bass) is one of Australia's most in demand bass players who has performed and recorded with such outstanding Australian and international artists as Mike Nock, Mark Isaacs, Lior, Katie Noonan, James Morrison and Vince Jones.