Free Public Talks: The Flawed And The Fabulous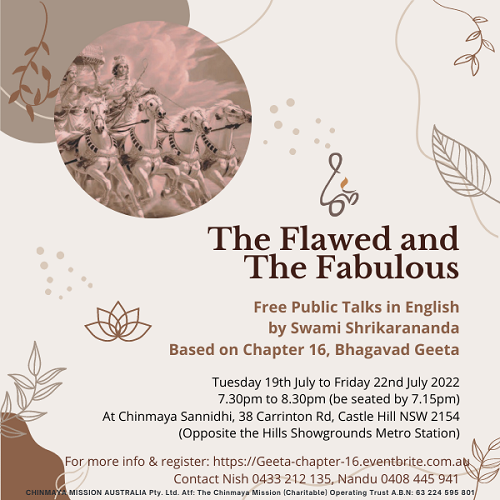 Chinmaya Mission Sydney invites you to join for free public talks in English. The Flawed And The Fabulous based on Bhagavad Chapter 16
Bhagavad Geeta Chapter 16 The Flawed and the Fabulous, the good and the bad, the divine and the devilish – these divisions are clearly seen in the world. Why be good? Often those who adopt unfair means are seen to be achieving great success. The Lord explains that the path to the Highest must be fair; it cannot be paved out of the flawed, devilish qualities in us. Lord holds a mirror to each of us to face our current status. A very confronting chapter. Be ready to see yourself and lift yourself to the divine.
Free Registration
https://Geeta-chapter-16.eventbrite.com.au
Lift yourself to the divine through these free public talks at Chinmaya Sannidhi (or ONLINE), exploring Chapter 16 of the Bhagavad Geeta.