EID Celebration – Jawid Sharif and Madina Aknazarova in 2022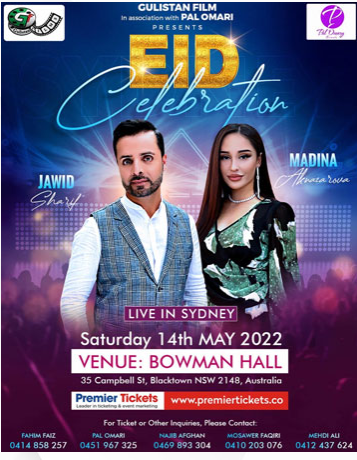 About Event
Gulistan Films announces one of the most awaited events of the year, the music maestro Jawid Sharif and the singing sensation Madina Aknazarova live tour of Australia.
Jawid Sharif's overall music performances range from traditional Afghan music, Ghazals, ballads and modern hit songs which are highly appreciated by many of his fans across different cultures. From being one of the most viewed Afghan male artists on YouTube he has surely earned a very respected position amongst the music industry.
Our second and talented artist from Tajikistan Madina Aknazarova, has surely made a name for herself with her music videos bringing in several million views from across the globe. Her hit remake of "Masuma" and her joint song with Jawid Sharif "Aftaab" has over 6 million + views across YouTube.
So Australia be ready to witness magic on stage with our two amazing and well-loved artists who are surely going to bring you one of the best performances of the year.