Discussion – Indian Democracy at 75: Troubled or Triumphant?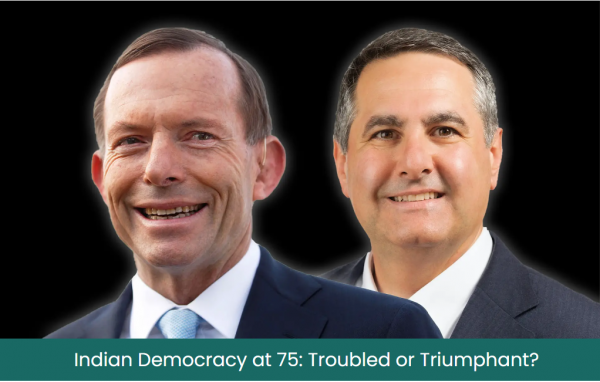 At 75 years old, India is Asia's oldest democracy and the world's largest, yet many view India as a troubled democracy.
Join the Centre for Independence Studies (CIS) discussion on the state of Indian democracy at 75 with former Prime Minister Tony Abbott, a long-time India watcher.
Following opening remarks by Aarti Seksaria, former PM Tony Abbott will join adjunct scholar Salvatore Babones, for a conversation and audience Q&A.
About the speakers:
The Honourable Tony Abbott AC was Prime Minister of Australia from 2013-2015 and Member of the Australian Parliament for Warringah from 1994-2019.
Salvatore Babones is an associate professor at the University of Sydney and adjunct scholar at the Centre for Independent Studies. Salvatore writes the "Philistine" column for Quadrant and is the regular host of the weekly CIS livestream show On Liberty.
Aarti Seksaria, is a former internship graduate at CIS. Aarti has worked as a tutor on Indian Foreign & Security Policy at the ANU and was recently recognised as an 'Indo-Pacific Emerging Leader' by Latrobe Asia.