Cultural Cooking – Indian Breads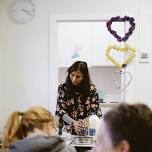 We're very lucky to have Manu in our neighbourhood who is willing to share her cultural expertise. Last semester she taught us how to make Masala Chai. This term she is offering two workshops:
Indian Breads
Saturday 11 September from 2-3.30pm. $40.
A hands on introduction to making  roti, stuffed roti, paratha and poori.