Chai Tea Ceremony and Workshop with Prati Bhatt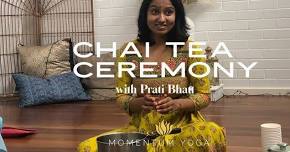 You are warmly invited to a unique afternoon of tea tasting, learning and ceremony, the only one of its kind outside of India. Come with a curious mind to sample and savour the essence of masala chai tea – and how it is grown, selected, brewed and served – in the unique Indian way, with nourishing spices and milk.
This afternoon will include:
An introduction to tea – its flavours, healing properties and elements;
The magic of two chai brewings (dairy and non-dairy options) in a 30-minute meditative ritual;
Around the table tastings, conversation, question and answers;
Serving of nibbles to clear the palate; and
A goodie gift bag with Teaphoria teas and recipe cards.