FLOOD DONATION DRIVE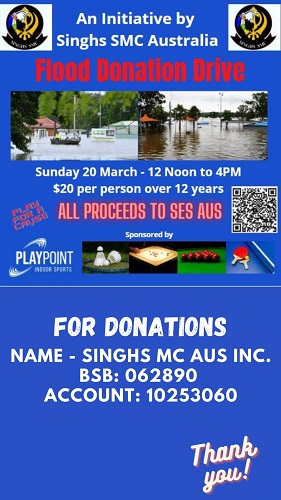 FUNDRAISER
The current heavy rains across NSW and the havoc it has caused, has disrupted the lives of many families.
SINGHS Social Motorcycle Club Australia is launching a Flood Donation Drive, the proceeds of which will be donated to SES NSW to assist them in their excellent work.
One of the founding members of the Club, Sanjeev has offered his venue to facilitate this charitable cause as follows:
About the Club:
SINGHS SMC was launched on 13 June 2021 at Sydney's Parklea Gurudwara.
Club vision is to "Promote brotherhood, equality, and philanthropy through motorcycle riding globally."
Our Motorcycle Club is open to all genders, every ethnicity, riders of all types of motorcycles, and people from all walks of life and ages.
About the event:
Date : Sunday 20 March
Time : 12 noon to 4PM
Venue : PlayPoint Indoor Sports, 2/6 Boden Road, Seven Hills, NSW 2147
Activities : Badminton, Carrom, Table Tennis, Snooker, Pool and Billiards
Equipment : All playing equipment OTHER than Badminton Rackets will be sponsored by PlayPoint.
Badminton Shoes : Please ensure non marking shoes are worn on the Badminton Courts
Activity Rules : First Come First Serve Basis plus everyone would be entitled to atleast one game for each Activity
Entry : $20 per person above 12 years, children are Free.